Autumn Sequence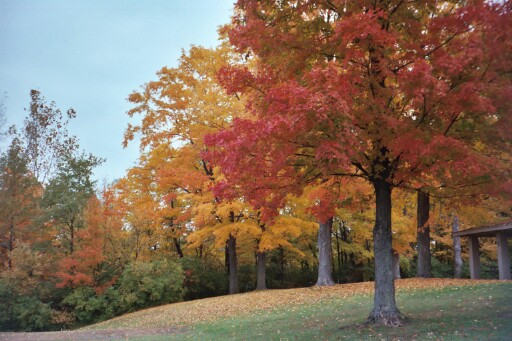 On this clear night
how thickly they fall--
the autumn leaves;
beyond them the stars
lie scattered across the void.
George

Dry corn stalks
under a pale gibbous moon;
suddenly a gopher
darts out from its hole
to forage for food.
Richard

A moment's swirl
in myriad colors--
the autumn leaves
settle on the cold earth,
below bare branches.
Paul

Swirling up
From bare maple branches,
A flock of blackbirds--
Their dark wings beat
Against dawn's parting clouds.
Donna

Seagulls circling
as dark clouds roll in;
their cries
cut through the soughing
of the autumn wind.
Richard

A dark cloud
Drifts across the October sky;
Mists silver linings--
But green leaves look greener,
And the yellows more yellow.
Gillena

Green leaves still flutter
where the breeze blows balmy warm,
along the river--
fall intrudes in long shadows
cast by an early sunset.
Paul

Low water;
In the river's slow eddy,
Spreading ripples--
A sycamore seed
Gets caught in exposed rocks.
Donna

Dipping one hand
into the slow moving stream--
the chilling current;
how the sluggish crayfish
crawl along the riverbed.
Richard

Empty and exposed,
left dry by passing seasons,
the riverbed
fills now with falling leaves
that float on currents of wind.
Paul

Floating
In and out of dreams,
I wonder...
Will my spirit be as leaves
Falling and reborn in plum's scent?
Donna

A bare branch
broken from high in the tree
tumbling down;
the hope of springtime's warmth
shattered in the cold of fall.
Richard

Tumbling down,
a last flurry of leaves
in the icy wind--
only black limbs remain
bare against the waning moon.
Paul

Black walnut husks
Plop into its darkness--
The cold stream;
The white bellies of darters
Flash in morning grayness.
Donna

Raking in
the autumn leaves,
a shopkeeper
makes a bed for big-belly
pumpkins with cut-out faces.
Sarah

A fallen leaf
frozen tight in the ice
on the pond--
no longer the sound
of peepers and crickets.
Richard

Lost from the night,
like stars at daybreak.
What remains
after the crickets depart?
Only the wind in the reeds.
Paul

The wind
Moves through the banyan tree
Making sound--
Black raven wings
Brush against the bells.
Sunny

A brown leaf
caught in the wind chimes;
the chilly wind,
unable to jostle it free,
the chimes sound with a thud.
Richard

Suddenly golden!
Surrounded by falling leaves
On this lonely path--
The old maple and I
Losing another year.
Donna