Spring Sequence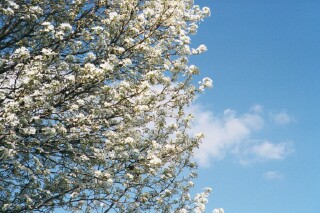 A pear tree
stands in a clearing--
blossoms fall,
trembling in the wind
and pale in the white of day.
Sunny

From the too dark room
my head in the window--
spring morning;
a pair of drunks in the street,
singing in the warm air.
Don

Intoxicating!
The first scent of lilacs
in early morning;
the dew is still thick
on the garden grass.
Richard

White pinwheel blossoms
touch the watering can
this morning;
as I gaze on the moon
lingering there from last night.
gillena

A piece of straw
From the grackle's beak
Pinwheeling;
Even the apple's petals lost
To the spider's waiting web.
Donna

Dawn chill--
shadows of the tulips fall
across dewy grass;
the yellow blossoms grace clouds
of doubt behind closed eyes.
Don

Splashes of color
enliven these days;
forsythia blooms!
Earth's renewal begins--
winter over at last.
Helen

By the old stone wall,
the forsythia blooms
caught in the noon light--
cherries withered and strewn,
their moment fades all too soon.
Paul

In the quiet stream,
The reflections of geese
Fading too soon;
Now the hazy moon
Becomes my companion.
Donna

The returning geese
cast shadows as they pass
above the pine grove--
where my memories rise up
to our old meeting place.
Paul

On the weathered pier,
the sound of lapping waves;
flowing in rhythm,
sweet memories of nights
under this same spring moon.
Claudia

Rhythm
of the drizzle;
falling--
a yellow blossom
dances with the wind.
gillena

Despite the wind's force,
thick layers of fog remain
in this chilly dawn--
the only sign of Spring,
the cry of returning doves.
Paul

Dew drops
on leaves are heavy this Spring;
Wet and tired--
they wait for fire to come
gusting through the suzuki grass.
Sunny

Wet and tired...
A widening swath of rain
On the lake;
Even the pair of mallards
Leave behind their fading wake.
Donna

We stop chattering
heading onto the lake--
a heron flies up,
turning into the stiff wind
before being turned by it.
Don

In the distance
above the open water
herons soar off...
seemingly motionless,
disappearing in the mist.
Paul

Spring rain--
Yet the dandelion seed still
Drifting off;
The patter of drops on leaves
Deepens this afternoon sleep.
Donna

Dandelion puffs,
windborne and floating skyward,
lost among the clouds--
so many wishes and dreams
vanished from these open palms.
Paul

A morning walk
on a cool spring day--
a dandelion;
one small child
runs smiling "flower."
Helen