Summer Sequence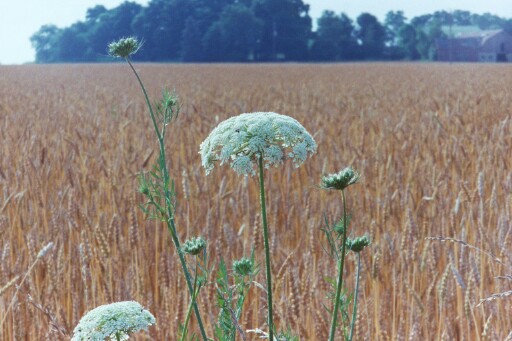 (This sequence was first published in the November 2002 World Haiku Review.)
Rising towards fullness
In summer twilight's heat--
This moon;
Will it shine as brightly
On my gray hair as the fawn's spots?
Donna

The half moon,
half-hidden among
silver clouds--
these gray hairs, also,
portending the night.
Kit

Only a full moon
Reveals the luna moth
And its shadow;
Does its beauty exist too
In the blinding darkness?
Donna

A wood fire
burning through the night--
the full moon
captures my dreams
as the flame does the moth.
Richard

Thin smoke
Wafts towards the morning sun--
These dreams
Float on the dragonfly's wings...
Up, down, back, forth in the wind.
Donna

Gathering dusk;
a robin flits from the trellis
in the garden--
an afterglow of feathers
the only remains of day.
Maria

All that's left
of those long ago twilights--
the memory
of fireflies appearing
in the deeper dusk of trees.
Suzanne

Evening haze--
only the mewl of a cat,
in heat
of midsummer dusk,
the crescent moon rises.
Richard

Beyond the haze,
The Western twilight
Deepening its hue;
The fierceness of summer storms
Prepares me for autumn's chill.
Donna

A crack of lightning
shattering the evening calm--
the pattering of rain
which follows the thunder
brings a chill to the air.
Richard

No breeze this dark night,
only the blazing of stars--
Such silence
across this moonless sky
draws me into dreamless sleep.
Paul

Heartbeats...
counting the moments
this quiet night--
the sky is as empty
as this longing heart.
Richard

The cicada,
Before its crescendo,
Winding up--
I count my prayers
To shed this loneliness.
Donna

Evening cool:
a lone cricket chirrs
so slowly--
we rub our legs together
in silent harmony.
Richard

Behind the oak tree
a yellow moon fills the sky
with whispers tonight--
in this space of glowing leaves
I shall hold you ever close.
Maria